main works

Artec Studio carries out projects through three departments: lighting design, lab, and lights. We have arranged our works in this manner to guide you on a transversal tour through our most relevant projects. Below is a selection of projects within those categories.
lighting design

Artec Studio is dedicated to developing high-quality architectural lighting projects through close, proactive relationships with the design teams and clients. Shaping light, we create innovative lighting designs that enhance the architecture and its contents, while achieving the program and sustainable goals. Take a look at our most relevant projects.
lights

Our lights emerge from the experience developed in our lighting designs projects and the study of the function and emotion of the light interacting with space and people. The studio, by merging research, technology and taking care of details, has developed new concepts of light. Our designs are produced by recognized manufacturers and have been internationally awarded. Enjoy a selection of our luminaires designs and bespoke lights.
light art

Artec Studio's lab is dedicated to exploring the most interactive, social, and artistic aspects of the light as a channel to create intangible and exciting light art content. This enables our team to shape the perception and cognition when being part of experiences, interacting with artworks, or creating identities through light.
Designova Exhibition & Spring Party Artec Studio
Marzo, 2023
Tras su paso por el Disseny Hub Barcelona y su exhibición en el festival de arte lumínico Off Llum Bcn, la estela de color y energía positiva, Designova, aterriza, esta vez, muy cerca de su origen: Palo Alto Barcelona. Como una estrella fugaz, siempre en movimiento, en esta ocasión Designova desciende buscando una mayor interacción y conexión con las personas, para darnos la oportunidad única de tocar una estrella.
Nova
es cómo se denominan las nuevas estrellas que surgen a partir de un evento astronómico entre otras dos estrellas; hecho también conocido como Supernova. Designova logra trasladar al observador a la emoción de ese momento, generando una sensación de atemporalidad y de inmersión en luz estelar.
La instalación quiere transmitir un mensaje de futuro, de aquello que nace, nuevo, deseado, vivo. La experiencia se acompaña con un sonido espacial diseñado para la pieza basado en el concepto del sonido de las estrellas según la NASA.
Te invitamos a descubrir Designova de la mano de su creador y a celebrar juntos otro hito astronómico: ¡el equinoccio de primavera!

Designova Exhibition by
Maurici Ginés & Spring Party Artec Studio
Fecha: 23 de marzo de 2023 - 19 h
Ubicación: Palo Alto Barcelona, Carrer dels Pellaires, 30 - 38, 08019 Barcelona
Organizado por: Artec Studio
¡Reserva tu plaza!
Designova
Creador: Maurici Ginés
Producción: Artec Studio
Con la colaboración de: ProtoPixel, Difusiona
Diseño de sonido: Pierfrancesco Ceregioli
LIT Design Awards 2022 Winners!
November, 2022
We are very proud to announce that two Artec Studio lighting design projects have been awarded in the LIT Design Awards 2022:
Valle San Nicolás, Sordo Madaleno Architects
.
Winners in Exterior Architectural Illumination & Interior Architectural Illumination.
Find out more here.
New Perelada Winery, RCR Architects
.
Winners in Daylighting & Interior Architectural Illumination.
Find out more here
.
Congrats to the team and to all award winners!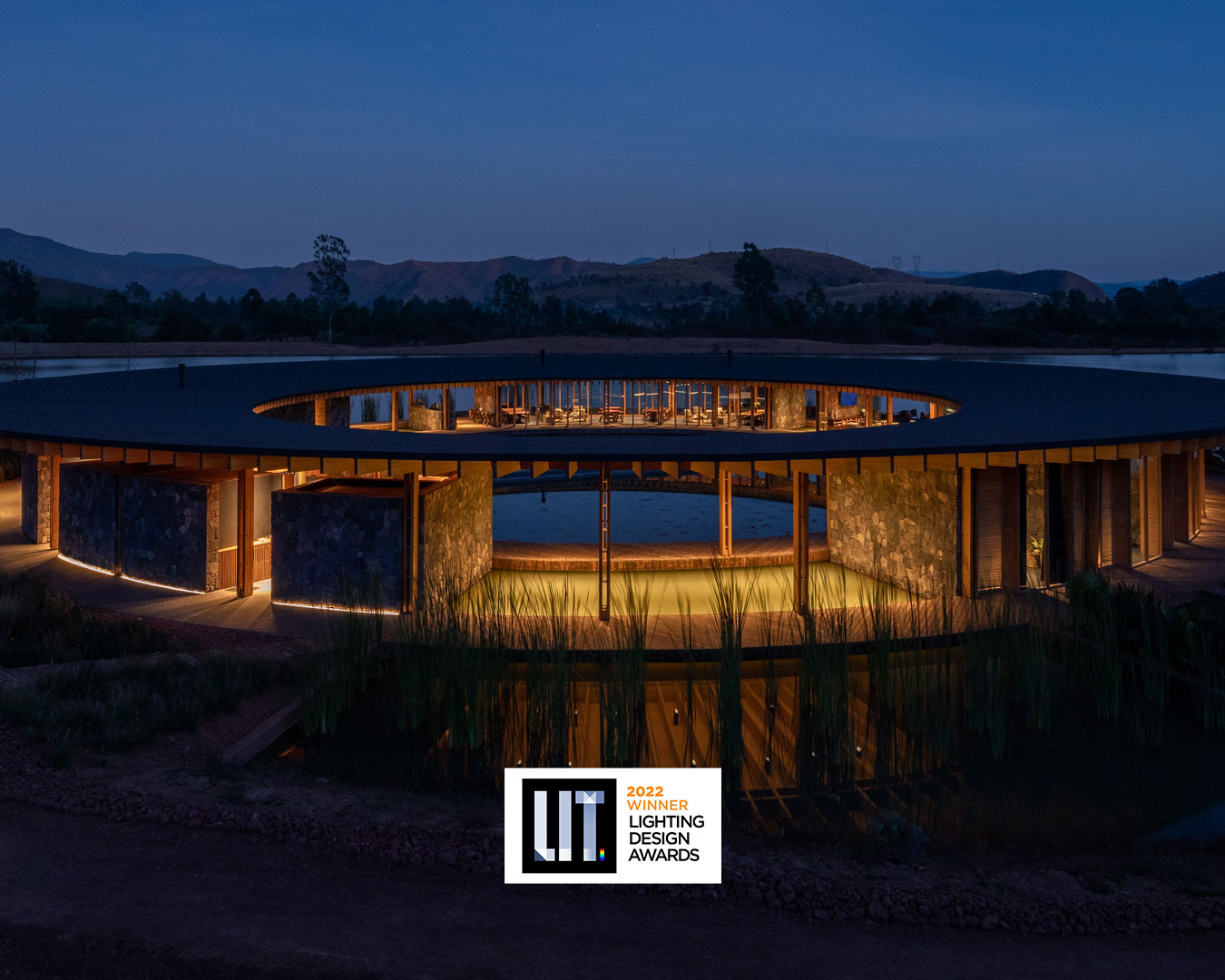 Honorable Mention in Mexico!
February, 2022
The lighting concept of the De Krook Library, an architectural project designed by RCR Arquitectes and Coussée and Goris architecten, has been distinguished with an Honorable Mention at the
2022 edition of the Iluminet Lighting Biennale.
We are very grateful for this recognition. Discover more about the project
here!
Iluminet Awards Shortlist!
February, 2022
Amazing news! We have been shortlisted for three Iluminet Awards in the IV edition of the Bienal de Diseño de Iluminación Iberoamericano promoted by the digital magazine of Lighting Design
Iluminet
.
Here you can check out the nominated projects:
Congratulations to the other shortlisted candidates in all categories. Fingers crossed!
The Krook Library wins the LIT Awards 2021!
December, 2021
We are thrilled to announce that the
Krook Library
has won the
Exterior Architectural Illumination award
in the LIT Design Awards 2021.
De Krook is the city library of Ghent, Belgium, designed by Pritzker Prize-winning studio RCR Arquitectes and the Belgian firm Coussée & Goris architecten.
So proud to be part of this amazing project. Congratulations team!
Tevilah Polanco wins LDA 2020!
March, 2021
Great news for the studio. Tevilah Polanco wins the
Lighting Design Awards 2020
Heritage and Faith Project of the Year! A big thank you to the project judges for choosing our lighting design for Tevilah as the best in class for "period buildings, churches, and places of worship".
We are truly proud to have competed with such admirable projects. Our lighting scheme responded to the identity of the building and generated a high-quality illumination that best resolved the clients' requirements by creating an unobtrusive system that reveals the religious essence of the place.
Ray Molony, chairman of the judging panel, states:
"as usual the entries have been scrutinised, assessed and rated by a panel of world-class designers at the very pinnacle of their craft, and I can confirm that, as the standard of lighting design at its very best around the world is increasing all the time, these winners are truly exceptional and I congratulate them on their achievement."
[d]arc awards 2020 Shortlisted!
March, 2021
We are very happy to announce that our lighting design for Manacar Tower in Mexico has been shortlisted in
structures: high budget
.
Persopectiva, envisioned by Maurici Ginés and produced by our summalab team, has also been shortlisted in
art: low budget
category.
We encourage our peers lighting designers, light artists, interior designers, and architects to check out the outstanding shortlisted projects and products and to vote in the awards, until Friday 26th March.
Click here to vote!
Delta Awards
Shortlist 2020
June 22, 2020
We are very proud to announce that our
Palco InOut Collection
, designed for iGuzzini, is among the 131 projects eligible to compete for a Gold and two Silver awards in this year's edition that celebrates its 40th call for the best product design. The Delta Award´s objective is to promote public recognition of those innovative products that propose a conceptual renewal, contribute an environmental concern, and are at the same time an example of design and manufacturing quality.
Design: Artec Studio
Company: iGuzzini
LDA Shortlist!
March 11, 2020
We are delighted to announce that our lighting design for
Tevilah Polanco
in Mexico by Cherem arquitectos has been shortlisted for the Lighting Design Awards 2020! Congratulations to our team in Mexico!.
dark awards 2019 shortlist!
October 29, 2019
We are very happy to announce the light art installation
Nuestro Mar
by Maurici Ginés and summalab has been shortlisted under Art-Low Budget category!. Project shortlists consist of the best submissions from each category as chosen by the independent judging panel.
More at
darcawards.com
Artec Studio receives the prestigious Italian "Premio dei Premi" 2018
March 13, 2018
The Italian Senate President, Maria Elisabetta Alberti Casellati, delivered on Monday, March 4th in Rome, the greatly desired
Italian National Award for Innovation
, "Premio dei Premi", to the lighting designer Maurici Ginés and Artec Studio, for the miniaturized collection of
Palco Low Voltage
projectors developed by the Italian brand iGuzzini.
A bright light wins Product Innovation Lighting Awards
October 4, 2018

We're very happy to announce that
Stormbell
, designed for Lamp Lighting, wins the Decorative, Pendant Category, of the 8th Edition of the
Architectural SSLProduct Innovation Awards.
Congratulations to all the team!
Instantes in iGuzzini
June, 2022

On June 9, we had the honor of officially presenting the two pieces from the 'Instantes' collection, by Maurici Ginés, which have become part of the permanent exhibition at iGuzzini's Headquarters in Sant Cugat del Vallès, Barcelona.

With this collection, created for the "Echoes of a Land" exhibition at the Mexican Pavilion at La Biennale di Venezia in 2018, Maurici wanted to convey "an instant that is linked to an emotion that in turn evokes memories." Each piece is a small container of the instants of light that are perceived in Casa Gilardi, by the Mexican architect Luis Barragán. Reflections of light and color which, in turn, recall the chromatic essence of Mexico.

Excited to see Instantes #1 and #2 on display, we can only thank iGuzzini for hosting these pieces, and the Sant Cugat City Council, represented by its mayor Ms Mireia Ingla, for their involvement and commitment to art and culture in the city.

The exhibition can be visited by appointment (sandra.perez@iguzzini.com) at iGuzzini illuminazione Ibérica, Av. de la Generalitat 168-170, Sant Cugat Del Vallès.



iGuzzini presents "INSTANTES", by Maurici Ginés
June, 2022
We are excited to announce that two artworks from the
"Instantes"
collection, created by Maurici Ginés for the exhibition "Echoes of a land" in the Mexican Pavilion at La Biennale di Venezia 2018, will become part of the permanent exhibition space at iGuzzini's Headquarters in Barcelona, Spain.
In Maurici's own words these artworks are "small containers of the flashes of light that one experiences inside Barragán Casa Gilardi, that can also be found throughout Mexican colorful towns and architecture".
We would love to see you at the opening!
Opening: Thursday, June 9 - 1:00 p.m.
Location: iGuzzini illuminazione Ibérica
Av. of the Generalitat, 168-170
08174 Sant Cugat Del Vallès (BCN)
To attend:
Send email to sandra.perez@iguzzini.com (before 07/6/22).
"Aigua de Nadal", Interview with lighting designer Maurici Ginés
January, 2021
Aigua de Nadal
is the lighting installation designed by Maurici Ginés for the Creative Urban District that filled the streets of Poblenou with colors last Christmas. After the event, the
Poblenou Urban District
interviewed Maurici in a friendly talk where he reveals more details about the installation and his beginnings as a lighting designer.
Click here to read the interview.
"Nuestro Mar" at Design Week in Mexico City
November 27, 2018
Maurici Ginés and Simón presented Nuestro Mar, a light art installation inspired by memories of light from Barcelona, as part of the exhibition
"Inspired In Barcelona: Elements"
dedicated to promote the Mediterranean city design.The artwork allows visitors to interact with it through a device from the Simón 100 iO series.
On view until October 21st, 2018.
More at
Design Week Mexico
website.
Light and sound exchange
November 22, 2018
Llum BCN 2018 got bigger and better! We did our part with our double proposal:
XiuXiu
and
BruumRuum!
: two projects connected under the same concept, where light, color and sound work together to interact with the passer-by. Read the news in
El País
newspaper.